Sindrome di Lesch-Nyhan
La sindrome di Lesch-Nyhan (LNS) è una malattia genetica grave caratterizzata da iperuricemia, distonia, spasticità, coreoatetosi, difficoltà di espressione verbale, problemi renali, vario grado di deficit cognitivo e, in particolare, da una spinta incontrollabile all'autolesionismo che per le particolari caratteristiche viene definito propriamente come comportamento Lesch-Nyhan.
La malattia è originata dall'assenza o comunque dall'attività estremamente ridotta dell'enzima ipoxantina–guanina–fosforibosil-transferasi (HPRT), normalmente presente e funzionante in tutte le cellule del nostro organismo.
L'Istituto Malattie Rare "M. Baschirotto" (B.I.R.D) si occupa di questa terribile sindrome dal 1996 sia sul piano socio-assistenziale che medico-scientifico, facendo uscire dal terribile isolamento le famiglie, creando il gruppo di supporto e aiuto, promovendo incontri meeting, corsi di formazione, visite plurispecialistiche e ricoveri periodici con la presenza di un'apposita équipe di cui fa parte lo stesso prof Nyhan.
Presso i laboratori di Genetica Medica dell'Istituto può essere effettuata la diagnosi genetica per i pazienti affetti da Sindrome di Lesch-Nyhan e per i loro familiari mentre i ricercatori dell'Istituto stanno procedendo nel contempo a studiare i meccanismi alla base della malattia.
I servizi che l'Istituto offre per la Sindrome di Lesch-Nyhan sono:
Pubblicazioni Scientifiche sulla Sindrome di Lesch-Nyhan:
Paola Cattelan, Diego Dolcetta, Uros Hladnik and Elisabetta Fortunati. HIV-1 TAT-mediated protein transduction of human HPRT intodeficient cells. Biochem. Biophys. Res. Commun. 11 Nov 2013

de Gemmis P, Anesi L, Lorenzetto E, Gioachini I, Fortunati E, Zandonà G, Fanin E, Fairbanks L, Andrighetto G, Parmigiani P, Dolcetta D, Nyhan WL, Hladnik U Analysis of the HPRT1 gene in 35 Italian Lesch-Nyhan families: 45 patients and 77 potential female carriers. Mutat Res. (2010) 2010 Oct 13;692(1-2):1-5. Epub 2010 Jul 16 IF 3.764 (2010)

Cristini S, Navone S, Canzi L, Acerbi F, Ciusani E, Hladnik U, de Gemmis P, Alessandri G, Colombo A, Parati E, Invernici G Human neural stem cells: a model system for the study of Lesch-Nyhan disease neurological aspects. Hum Mol Genet. (2010) 2010 May 15;19(10):1939-50. Epub 2010 Feb 16. IF 7.386 (2010)

Hladnik U, Nyhan WL and Bertelli M. Variable expression of HPRT deficiency in 5 members of a family with the same mutation. Arch Neurol 2008; 65(9):1240-3 IF 6.31 (2010)

Lapucci C, Pomaré Montin D, Pandolfo M and Bertelli M. Combination of linkage-study and real time PCR methods for the diagnosis of the Lesch-Nyhan Sindrome carriers in the case of deletions in HPRT gene .Mol Med. 2006 Sep-Oct;12(9-10):246-51. IF 3,349 (2005)

Bertelli M, Cecchin S, Lapucci C, Jacomelli G, Jinnah HA, Pandolfo M, Micheli V. Study of the adenosinergic system in the brain of HPRT knockout mouse (Lesch-Nyhan disease). Clinica Chimica Acta 373: 104-107, 2006. IF 2,149 (2005)

Bertelli M, Randi D, Micheli V, Gallo S, Andrighetto G, Parmigiani P, Jacomelli G, Carella M, Lievore C, Pandolfo M. Molecular basis of hypoxanthine-guanine phosphoribosyltransferase deficiency in Italian Lesch-Nyhan patients: identification of nine novel mutations. J Inherit Metab Dis. 2004;27(6):767-73. IF 1,722 (2005)
Poster LNS: The history around a genetic condition from demon possessed to Lesch-Nyhan disease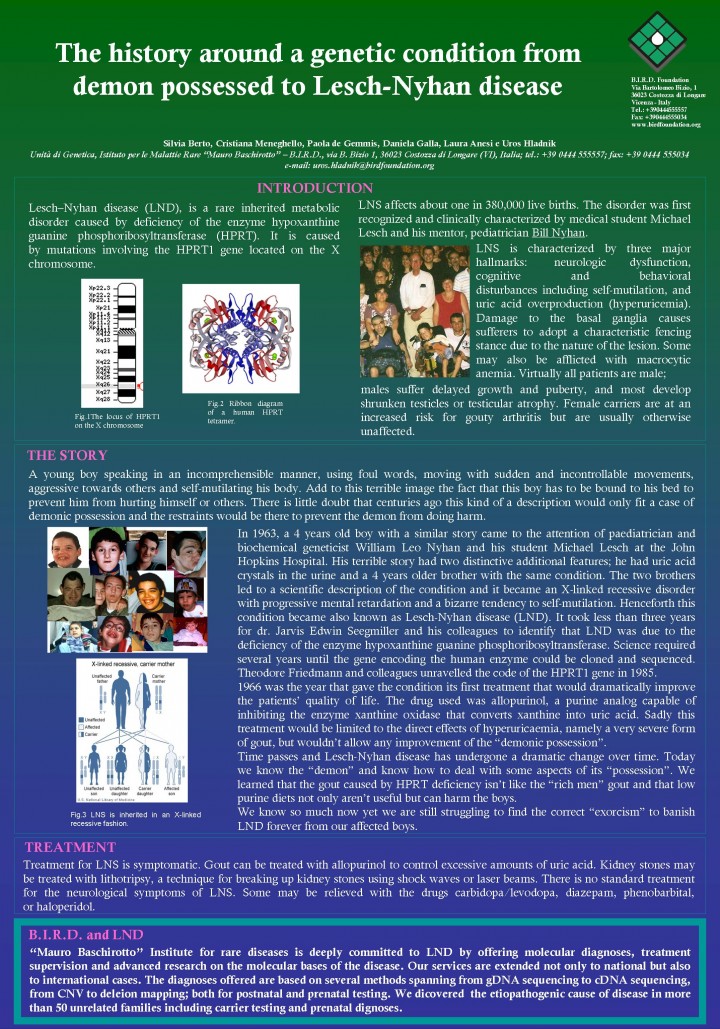 Contributi
Aiutaci a sostenere la ricerca donando il 5 per mille o attraverso una donazione a:
Banca di Verona e Vicenza
Codice Iban: IT 70Q 08807 11800 000000070000
Codice Swift/Bic: ICRAITRRBSG
Causale: Contributo per Ricerca LNS
Tutte le altre informazioni sono disponibili nella pagina Aiutaci.
_________________________________
Per maggiori informazioni
Tel. +39 0444 555557 e +39 0444 555034
[email protected]