A charity event in support of research will take place at the Institute of Professional Training in Trissino, Monday 20 July from 6 to 8 pm, in the presence of a limited number of people, as per the Covid-19 protocol, live on Facebook and Istagram of the "Mauro Baschirotto" Rare Diseases Association.
During the evening, the project will be presented and beautiful prizes will be distributed during an aperitif and a toast which, for the moment, replace the dinner scheduled for last March 20 and then postponed due to the pandemic.
THE DONATIONS COLLECTED ON THE OCCASION OF THE EVENT WILL BE DOUBLE BY THE MEDIOLANUM FOUNDATION.
Giada is a beautiful 5-year-old girl from the province of Vicenza. Her skin should have the beauty of gems, like the jade of which it bears the poetic and sweet name, a stone loved all over the world and highly sought after in the East. On her body, on the other hand, there is a huge dark spot, the congenital Giant Melanocytic Nevus.
It is a rare neoplastic type that covers a large part of the skin of affected children. This malformation appears already at birth or in the first days of life in a newborn every 30,000-50,000, in the form of large dark spots that extend on the face, back and pelvis, to which are added many other moles, called satellites. The only effective remedy currently consists in the surgical removal of the diseased part repeated several times, which is replaced with the patient's previously expanded skin. These are painful and complex but necessary treatments, because this neoplasm could turn into melanoma and therefore become malignant with imaginable consequences.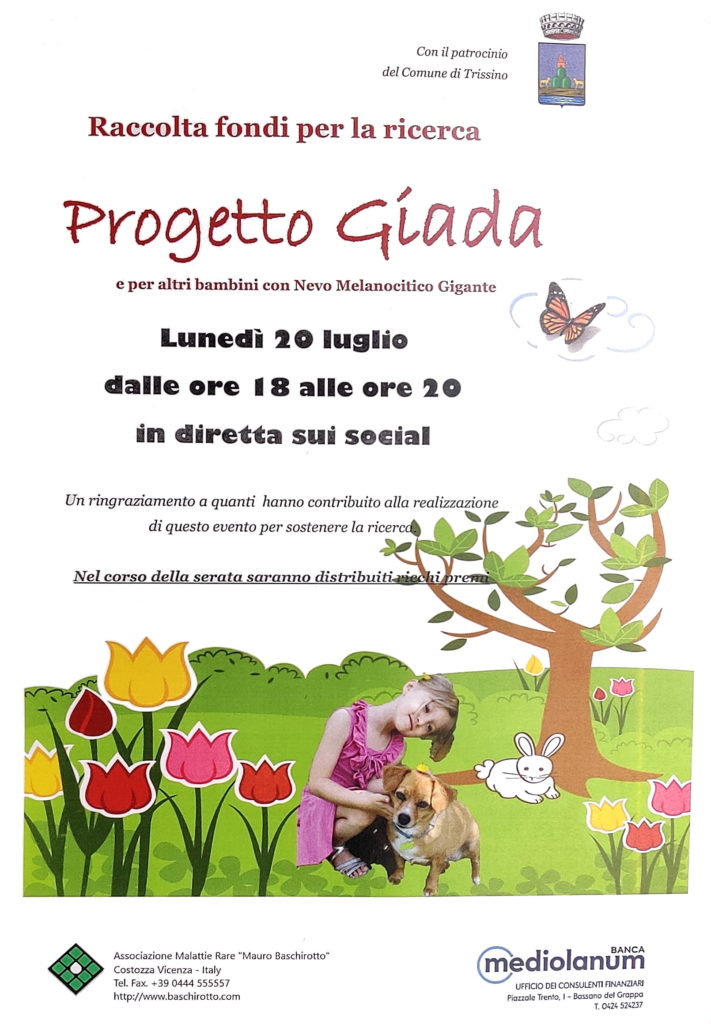 Giada, in five years of life, had to face 10 surgeries, the first at the Bambin Gesù pediatric institute in Rome, with unspeakable sacrifices, the last at ULSS 8 in Vicenza, thanks to the availability of Dr. Maurizio Pegoraro, already head of the Plastic Surgery.
To identify a less invasive and possibly decisive treatment for their little girl and other children, Alessandra and Oscar, Giada's parents are raising public awareness in support of the research project on Melanocytic Nevus, conducted by researchers from the Rare Diseases Institute "Mauro Baschirotto" BIRD of costozza di Longare, at its medical genetics laboratory, in collaboration with prestigious university centers.
The event will be live on the platforms
• Instagram https://www.instagram.com/ass.malattierare.mbaschirotto
• Facebook https://www.facebook.com/BirdFoundationOnlus